If prayer was more silence than noisy presence
If prayer was more intentional and less hurried
If prayer was more about relationship than conversation
If prayer was more soul-breathing than list-reading
If prayer was more heart and less form
Then what would my heart experience?
In silent centering first would come the hearing
Two voices vie for attention: one abrasive, the other gentle
As I choose to focus on the gentle voice, my heart opens wide.
I hear the whispered assurance, "You are My Beloved".
I hear the gentle invitation, "Come and sit with Me".
I hear the soft query, "Will you trust Me?"
I hear the promise, "I will walk beside you all the way"
I hear the pain in his voice when he says, "I have never left your side"
I hear the longing in his voice when he asks, "Will you just be with me?"
I hear the laughter in his voice at the delight of my company.
And in the hearing, I begin to feel the overwhelming Presence.
I feel the breath of his love-song blow gently over my wounded heart
I feel the fierceness of his grip on my hands, never letting go
I feel the strength of his grace surround me in the battle
I feel the gentleness of his arms holding my little girl heart
I feel the tears of the Trinity flow together with mine
I feel the touch of scarred hands gently wiping my tears away
I feel the heartbeat of the Trinity as I fall into the open arms of Love
And in the feeling, my heart begins to know.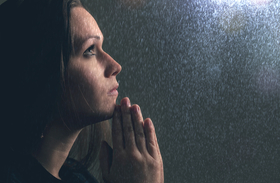 I know I am seen.
I know I am heard.
I know I am forgiven.
I know I am loved.
And in that knowing, I live in the Presence of Love.