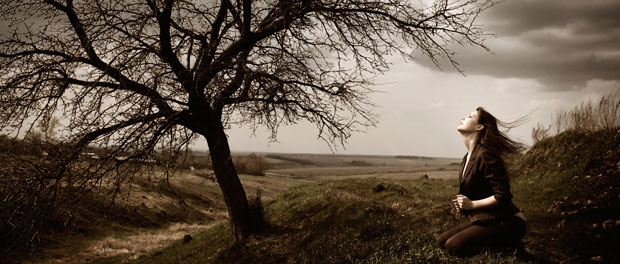 Abba, I'm down on my knees reaching my hands to you.
Hands that once were fists clenched against my chest
Holding fiercely to my anger and stubborn rebellion,
Not willing to release my grief, distrusts, fears, doubts, and dreams.
I've raged at you for past betrayals.
I've pummeled your chest for taking my dad away from me.
I've labeled you abusive and controlling just like other "spiritual" authorities in my life.
Where were you when I was hurting and lonely?
Do you still look the other way when those feelings wash over me?
Sometimes you feel so distant and cold; I cry out your name but only dead silence answers.
Do you really care when grief drowns me and anger squeezes the breath right out of me?
How can you possibly love a bedraggled, wary stray like me?
But Abba, you love me, you dream wild for me, you long for me.
You never walked away; you never turned your back on me.
You sat down beside me in the numbing, addictive muck of sin where I wallowed
Your arms of grace open wide waiting for me to turn to you.
No matter what I do, no matter what I say, you never stop loving me.
Thank you for always being here with me.
Abba, please forgive me for hurting you, for not trusting you.
I fall into your arms of mercy, resting in your love.
I hear your heart beat delight in me; I hear your whispered longings for me.
And without a doubt I know I am Abba's daughter and I am loved.